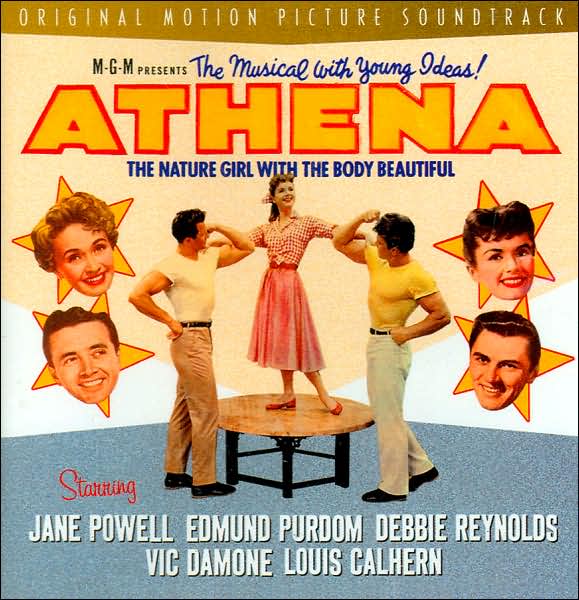 MGM Musical Score:
ATHENA
: Songs: Hugh Martin, Ralph Blane, Underscoring: Georgie Stoll, Robert Van Epps, Andre Previn, Jacob Gade Arrangements/Orchestrations: Georgie Stoll, Robert Van Epps Al Sendrey, Conrad Salinger, Wally Heglin
Rhino Handmade RHM 27768, 33 tracks (stereo)
Producer: George Feltenstein, Performed: MGM Soloists, Studio Orchestra & Chorus, Conductor: Georgie Stoll
Verdict:
Heavenly
by Ross Care
Athena
, a 1954 musical about an eccentric family of California health enthusiasts, is primarily distinguished by its score of songs by Hugh Martin and Ralph Blane. The song writing team first gained fame with their collegiate Broadway musical,
Best Foot Forward
. They were soon signed by MGM who produced the film version of
Best Foot
, and where they contributed several original songs to the eclectic score of one of the studio's biggest hits of the mid-1940s,
Meet Me In St. Louis.
After
St. Louis
the team went their various ways but reunited to produce
Athena
, their most extensive score.
Hyped as "The musical with young ideas,"
Athena
showcases the talents of MGM's young '50s stars, Jane Powell, crooner Vic Damone, Debbie Reynolds, and Edmund Purdom, the latter a new British leading man best (or worst known) for lip-synching the voice of Mario Lanza in MGM's nonetheless touching CinemaScope remake of
The Student Prince
.
Athena
itself is a modestly entertaining affair with a witty, satiric screenplay shot in classic '50s Technicolor with an appealing cast. The score itself was first released in a truncated version on Mercury, (Damone's home label), the soon-out-of-print 10-inch LP becoming a sought after collector's item. The 2001 Rhino Handmade release is the first complete release of this appealing score and with 33 tracks (including songs, outtakes, demos, and underscoring) the CD is one of Rhino's most elaborate productions.
The score opens with a lyrical main title for chorus and orchestra, the ethereal melody of which is beautifully developed in ensuing underscore cues. The songs range from energetic up-tempo numbers, the operetta-like waltz, "Vocalize," and the jazzy duet, "Imagine," to one of the most under-rated ballads in the vast MGM catalog, the haunting "Love Can Change the Stars," sung by Powell. Damone performs another moody ballad, "Venezia," and the film's opening, "The Girl Next Door," a slight variation on the durable standard from
Meet Me In St. Louis
.
Damone also handles an outtake, "Faster Than Sound," an elaborate up-tempo tune cut from the film but which ended up in Martin's
High Spirits
, the Broadway musical based on Noel Coward's
Blythe Spirit.
Other bonus tracks include seven demos sung by Blane with Martin at the piano, a virtual mini-album that demonstrates the team's considerable performing talents. (Visually the team can also be seen performing a "soundie" on the recent 2-disc DVD of Meet Me In St. Louis).
Though
Athena
was not shot in CinemaScope the score was nonetheless recorded in authentic stereo, the sound brilliantly showcasing the jazz soloists in numbers like "Imagine" and the lush MGM orchestral sound in the rest of the songs and underscore.
Athena
is one of Rhino Handmade's finest releases and provides a welcome and complete restoration of one of the most appealing and under-rated classic MGM musical scores.
Bravo!