---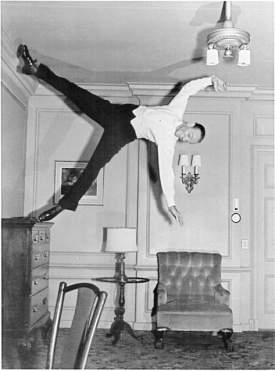 Royal Wedding
Composer/Songs: Burton Lane (music), Alan Jay Lerner (lyrics) Arrangements/Orchestrations: Conrad Salinger, Johnny Green, Al Sendry, Robert Franklyn, Skip Martin,
Rhino Handmade RHM2 7777, TT: 55.11, 22 tracks (mono and stereo)
Producer: George Feltenstein, Performed: MGM Soloists, Studio Orchestra & Chorus, Musical Director, Johnny Green
by Ross Care

As the liner notes comment,
Royal Wedding
is best-known as the film in which Fred Astaire dances on the ceiling, but it's also the only MGM musical featuring Winston Churchill's daughter, Sarah, as the second female lead. Aside from all that the film is one of those modestly excellent and entertaining productions that MGM did so well during the twilight of the Hollywood studio system when studios were still churning out an astonishing number of films per year of all genres.
A musical set against the 1947 marriage of Princess Elizabeth and Philip Mountbatten,
Royal Wedding
(1950) is distinguished by its score by Burton Lane. Lane was the composer for a number of songs for earlier MGM musicals, but had also just had a tremendous hit on Broadway with
Finian's Rainbow
, written with
Wizard of Oz
lyricist, E. Y. "Yip" Harburg. Lyricist/screenwriter Alan Jay Lerner had just written Brigadoon with composer Fritz Loewe, with whom the writer would eventually produce Broadway's
My Fair Lady
and MGM's
Gigi.
Lerner would later reteam with Lane for the less-successful but still popular,
On A Clear Day You Can See Forever
.
The score for
Royal Wedding
is more comparable to the latter than to any of the aforementioned mega hits, but (like the film itself) is charming and well-crafted with several fine numbers. "You're All the World To Me" was obviously designed for the distinctive vocal talents of Fred Astaire, and is the score's best tune, also heard instrumentally throughout. The haunting ballad, "Too Late Now," is pristinely performed by Jane Powell, the youngest member of MGM's stable of classy legit sopranos, in a dreamy Conrad Salinger arrangement, and even co-star Peter Lawford got a number, though it ended up cut and is heard here as a first-time stereo outtake.
Astaire and Powell team up for a raucous comedy duet, "How Could You Believe Me," and for a torrid production number, "I Left My Hat in Haiti." "Haiti" is vocal soloed by Astaire, but danced with Powell to Salinger's throbbing orchestration which showcases the MGM symphony's considerable battery of percussion. Too bad they did not have stereo components for this elaborate track, or for "Sunday Jumps," an instrumental orchestrated by Skip Martin in MGM's patented symphonic big band mode.
Of two operetta-ish choral ensembles "What A Lovely Day for A Wedding" credits Les Baxter as vocal soloist! The CD is rounded out by some of MGM's always superb underscoring cues, one of which, "We Can't Get Married," opens with a passage which curiously suggestive of Nino Rota before segueing into an instrumental reprise of the "All the World" melody.
Producer George Feltenstein's liner notes document the complicated production history of Royal Wedding which was originally conceived as a vehicle for MGM's troubled and troublesome Judy Garland, and the CD concludes with a vintage radio interview with Astaire and Powell.
John Green, soon to take over as Musical Director for the legendary MGM music department, conducts, and in a few years would compose his only major film score for one of the last of the MGM historical blockbusters,
Raintree County
.
Ross Care