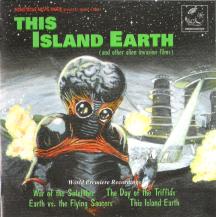 Music from THIS ISLAND EARTH (and Other Alien Invasion Films): Composers: Herman Stein, Ron Goodwin, Henry Mancini, et al
Monstrous Movie Music - MMM-1954, TT: 60.12, 47 tracks (stereo)
Verdict: Out of This World!
Producer: David Schecter, Kathleen Mayne, - Performed: Radio Symphony Orchestra of Slovakia, - Score Reconstructions: Kathleen Mayne – Conductors: Masatoshi Mitsumoto, Kathleen Mayne
by Ross Care
This 2006 Monstrous Movie Music release is a continuation of David Schecter's on-going exploration of the outer limits of classic (and not so classic) genre scoring. The key score in this excellent compilation of world premiere recordings is Universal International's THIS ISLAND EARTH (1955), one of the studio's more elaborate sci fi features.

As Schecter's notes explain, UI was a low-budget film factory in the 1950s, its scores produced in an assembly line, sometimes cut-and-paste (cue recycling) process in which the collective composers often remained anonymous. Ironically, UI still managed to evolve one of the most unique sounds of the studio era. The all-original THIS ISLAND EARTH is primarily the work of Herman Stein, assisted by UI horror veteran, Hans Salter, and new kid on the block, Henry Mancini who commenced his celebrated career scoring programmers at UI.


The score itself is simply one of the very best of the period. It's heard here complete with 27 cues that aurally outline the film's screenplay about earth scientists abducted by aliens to help fight an interplanetary war. The music is characterized by a duality representing earth and its humans by a noble, warmly symmetrical tonal sound, and the aliens and their influences by brief but weirdly evocative, harmonically askew cues. Though little time is actually spent in outer space and much of the film looks like a Technicolor Douglas Sirk melodrama, Stein's other worldly score definitely keeps the alien ambiance firmly in the foreground of any viewer's consciousness.
An early electronic keyboard, the Novachord, plus harp, celeste, marimba, bass marimba, and vibraphone, add to the alien mood, but the skillful use of exotic motifs, mild dissonance (including tone clusters), and economic but evocative orchestral effects are the key elements in the score's impact. Especially effective: "Robot Plane," with its almost new age harp arpeggios under string harmonics and tremolo, and "Exeter's Mansion," a kind of extraterrestrial pastoral that drifts though a gorgeous series of shifting modulations and anticipates Herrmann's ethereal FAHRENHEIT 451 sound. Printed musical examples are provided, including Stein's chromatic "Metaluna" motif that is heard throughout the score, often on the Theremin-like Novachord.


The compilation includes eight cues from Ron Goodwin's
THE DAY OF THE TRIFFIDS,
and two brief main titles, Walter Greene's manic genre-lite toccata for Roger Corman's
WAR OF THE SATELLITES
and Daniele Amfitheatrof's recycled 1942 cue for
EARTH VS. THE FLYING
SAUCERS, an early Ray Harryhausen production that is tracked with other previously existing cues ranging from George Duning to Miklos Rozsa.
Attractive packaging and artwork (including an especially colorful CD label), embellish a 39-page booklet chock full of everything from author John Wyndham's full name to photos of the composers (and Schecter's adorable dog). I've always been intrigued by the lesser-known scores and composers of the UI music department and by other low budget, mostly tracked/library cue scores such as the early Harryhausens and other genre efforts from Columbia, and Schecter's knowledge of the territory is enlightening, meticulous and encyclopedic.

Indeed together with the first two Monstrous Music releases Schecter's notes provide an exhaustive, but often droll and never academic chronicle of this generally uncharted but vital macro-phase of classic era scoring. And his documentation is well backed up by the excellent performances of the scores themselves, all of which should be of interest to fans of both genre scoring and Golden Age orchestral film music in general.